Typical Candy from Salamanca: Las Obleas
by suzanne.pope on Wednesday, May 17, 2017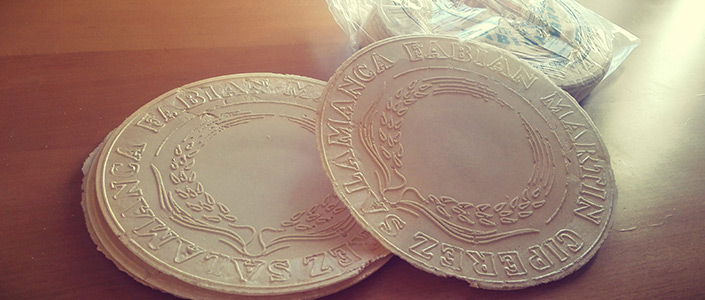 TYPICAL CANDY FROM SALAMANCA: LAS OBLEAS
DULCES TÍPICOS DE SALAMANCA: LAS OBLEAS
Make your stay in Salamanca even sweeter by trying one of the city's most typical candies! The traditional obleas are artisanal and has over three centuries of history behind it. It's made from natural ingredients: flour, egg and sugar. Although it's origin, like many Spanish candies, can be traced back to convents, the recipe made its way out of the monastic walls and eventually became part of a normal diet for many families. This is why today it's common to eat them with breakfast, as dessert or guilty pleasure, or at any time of the day, along with honey, soft cheese, marmalade, chocolate or ice cream.
¡Endulza tu estancia en Salamanca probando uno de sus dulces más típicos! Las tradicionales obleas se elaboran de forma artesanal y tienen más de tres siglos de historia a sus espaldas. En su elaboración solo se utilizan ingredientes naturales: harina, huevo y azúcar. Aunque su origen, como el de muchos dulces españoles, se remonta a los conventos. Con el paso del tiempo, la receta de esta delicia traspasó los muros monacales y las obleas comenzaron a formar parte de la alimentación diaria de muchas familias. Por eso, hoy es habitual su consumo en el desayuno, como postre o capricho a cualquier hora del día, acompañadas con miel, queso suave, mermelada, chocolate o helado.
The creation of obleas is a common topic of conversation in Salamanca thanks to a traditional and family-run company, "Pan de Ángel", better known as Obleas de Cipérez. The name is derived from a little town, located in the natural park Arribes del Duero, where the family of Fabian Martin has been kneading and baking this special pastry of just 10 grams and 20 centimeters in diameter for over 160 years.
La elaboración de obleas es un asunto típicamente salmantino gracias a una empresa de gran tradición familiar, "Pan de Ángel", más conocida como Obleas de Cipérez. El nombre procede de la pequeña localidad, situada en el paraje natural de las Arribes del Duero, en la que la familia de Fabián Martín lleva más de 160 años amasando y horneando este dulce, de tan solo diez gramos de peso, de unos veinte centímetros de diámetro y extremadamente fino y crujiente.
Its design has barely changed since the great-grandfather of the current owner Fabian Martin began his business selling and baking obleas. He and his wife had traveled all around the province of Salamanca, from village to village selling obleas that were even more artisanal than they are now. Back then, they used a cast iron mold, which Fabian Martin still has saved as a memento. Nowadays the process has been automated.
Su diseño apenas ha sufrido variaciones desde que el bisabuelo del actual propietario, Fabián Martín, emprendiera su negocio de elaboración y venta de obleas, recorriendo con su mujer toda la provincia de Salamanca, pueblo a pueblo, haciendo obleas con técnicas más artesanas que las actuales. Antiguamente se utilizaban unos moldes de hierro, que Fabián Martín todavía conserva como recuerdo, y que han sido sustituidos por placas automatizadas.
They are excellent gifts to bring back after your stay in Salamanca, especially the candies that are decorated with silhouettes of monuments, such as the two Cathedrals or the iconic Botón Charro symbol.  And, of course, they also have the Martin family name printed on them and the village where they created this delicious product. Take advantage of your stay in Salamanca to discover the obleas, try all of its combinations and discover your favorite – make it a sweet reminder of your stay!
Son un excelente regalo tras una estancia en Salamanca, ya que están decoradas en su centro con siluetas de monumentos de la ciudad, como las dos Catedrales o el típico Botón Charro. Y, por supuesto, también con el nombre de la Familia Martín y del pueblo de donde procede este rico producto. Aprovecha tu estancia en Salamanca para descubrir el porqué del éxito de las obleas, prueba todas las combinaciones para descubrir tu favorita y hazte con un dulce recuerdo decorado con un emblema de la ciudad.
---
Keywords: dessert, foodie, learn spanish in salamanca, spain, aprender español,